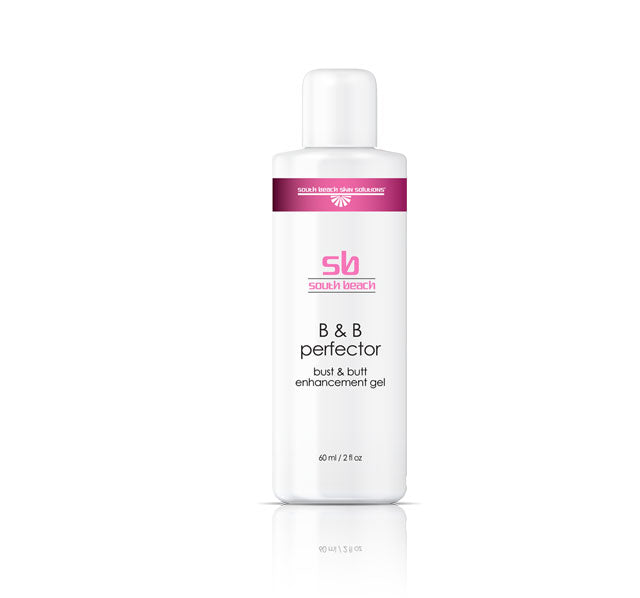 SB Bust & Butt Enhancer
$49.95
Saggy or lumpy butt? Triple action formula helps the appearance without surgery. Dermatologist tested.
---
In stock
Description
FAQ
Directions
Ingredients
Testimonials
Description
Dermatologist Tested. Safe. Effective. Trusted. Made in the USA.
Looking for a safe, gentle and effective way to enhance the appearance of the breast and buttocks areas? South Beach B & B Perfector is just the product for you. This proprietary formula incorporates a plant-based complex of ingredients that supports the natural enhancement of the look of bust and butt areas.
Features:
Mangosteen
Quince
Essential Cell Boost Factor is a highly active bioferment from the green algae Chlorella vulgaris and the proteins of the white lupin
Trusted by Professionals in 50+ Countries.
Trust is vital to our relationship with our customers. Our products are trusted by thousands of professional estheticians, cosmetologists, pharmacists, doctors and more in salons, spas, clinics, pharmacies and medical offices in more than 50 countries around the world. They trust us with their clients. So you know that our products are safe, effective and trustworthy.
Dermatologist Tested.
Our entire product line is dermatologist tested by independent labs to provide the highest degree of trust.
Highest Quality. Made in the USA.
We pride ourselves on working with the best labs in the USA to formulate and produce our products with the highest degree of quality and safety. We even produce our tubes and boxes in the USA. It is all part of our commitment to quality and trust.
(No information offered on this web site should be considered as medical advice.)
Who Should Use?
Any man or woman who wants to enhance their look can use our product in the comfort of their home. Works with all skin types!
Can Men Use It?
YES! We have thousands of men using our South Beach products to enhance the look of their appearance.
Does it Have Any Unpleasant Smell or Sensation?
Definitely not! Our products are specially formulated and tested to be pleasant to use without any strong or unpleasant smells or burning or tingling sensations.
Is This Product Dermatologist Tested?
Yes! All of our South Beach products have been independently dermatologist and allergy tested.
100% Satisfaction Guarantee
Your satisfaction is important to us. We are so confident that you will love our products that we offer a 60-day money back policy (less shipping & handling). See our order policies for full details.
(No information offered on this web site should be considered as medical advice.)
Our BUST & BUTT PERFECTOR is designed for use on the bust and butt areas. For best results, use 2-3 times a day. Apply directly to the desired area by gently rubbing in a circular motion until completely absorbed. You may experience a slight tingling effect. This is normal. Individual results may vary.
External use only. Not intended for use by pregnant or breast feeding women.
(No information offered on this web site should be considered as medical advice.)
It is our mission to provide safe, gentle and effective products that will not irritate sensitive skin. Therefore, we use gentle, natural ingredients to create products that do not contain potential irritants like alcohol, fragrances, dyes or parabens. In addition, all of our products are dermatologist and allergy tested. However, everyone is different and we list our ingredients as a courtesy to anyone who wants to check them before purchasing. Our ingredients for this product are:
Water/Aqua/Eau, Helianthus Annuus Seed Oil, Glycerin, Emulsifying Wax, Zinc Oxide, Manihot Utilissima Starch, Lonicera Caprifolium Flower Extract, Pyrus Malus Fruit Extract, Saccharum Officinarum Extract, Camellia Sinensis Leaf Extract, Primula Veris Extract, Alchemilla Vulgaris Leaf Extract, Arctostaphylos Uva Ursi Leaf Extract, Malva Sylvestris Extract, Glycyrrhiza Glabra Root Extract, Phenoxyethanol, Veronica Officinalis Leaf Extract, Passiflora Edulis Fruit Oil.
If you have any questions or concerns, please contact us and we will do our best to help you.
(No information offered on this web site should be considered as medical advice.)
You may also like…
SB Skin Brightening Roll-on for Underarms

Embarrassing or unsightly dark underarms? Get ready for bikini season or wearing that revealing dress. "Instant Effect" instant concealing technology for immediate results! Dermatologist tested.

$

49.95

SB Skin Brightening Gel for Sensitive Areas

Suffer from embarrassing dark or discolored intimate areas? Millions do. But you don't have to suffer any longer. We are the original, all-natural solution trusted by thousands of professionals in 50+ countries. Get ready for bikini season with our world-famous, revolutionary SB Gel for Sensitive Areas! Our advanced formula is specially designed to help provide you with a brighter, fresher, more youthful look. Dermatologist tested.

BEST USES:

Our most versatile product.
Anal & Vaginal Areas
Dark Genital Areas
Dark Underarms
Dark Nipples
Dark Spots
Age/Liver/Sun Spots
Acne Scars
Burn Marks / Scars (Discoloration)
All Areas of the Body incl. Face
All Skin Types

$

49.95

SB INSTANT RESULTS KIT – INTIMATE

BEST SELLER! Our ultimate "extra strength" 3-step kit used by professionals. INSTANT IMPROVEMENT! Dermatologist tested.

$

99.95